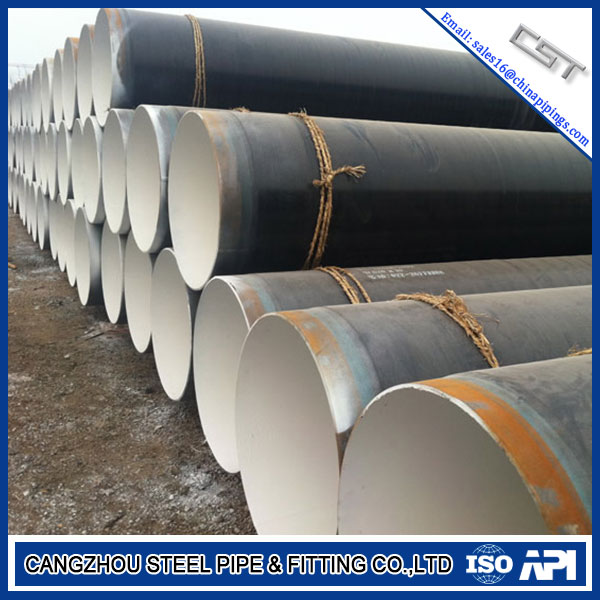 CST found the piping coating and insulation working plants to service our clients in industry field. we can produce the 3LPE pipes and fittings, FBE and epoxy painted pipes and fittings, PU pre-insulated pipes and fittings, cement lining pipes Etc.
 What does Piping Coating mean?
Piping products coating is a cost effective and viable solution to maintain the integrity. This coating provides a constant protective layer to prevent the pipes from the corrosion damage. Piping products coating is one of the most reliable corrosion prevention methods in industry application. The coating commonly includes the pipe internal coating, and pipe external coating ,the internal coating also called pipe lining .
What is the advantage of the coating to the piping products ?
It can improve gas or liquid flow: if the surface is smooth, the flow capacity will be better. Many studies have demonstrated that flow capacity of coated pipes is better than uncoated ones.
It is easy for inspection and commissioning,coated pipework dries faster than uncoated pipes which means the commissioning can be faster and easier on the line.
It also can reduce the cost of energy,this is especially true in terms of compressors and pumping stations. Pipings that are internally coated could create a vast difference in lowering the costs of compression and pumping over the pipe's lifespan.
Beside those, pipeline coating can also reduce the need for inhibitors and promote clean delivery of the product. Thus, this can serve as a cost-effective and low-maintenance option for corrosion control .
What kinds of coating we can provide?
Our main coating methods:
Fusion Bonded Epoxy Coating System

The Fusion Bonded Epoxy (FBE) coating system is an externally-applied thermosetting resin for pipe. It is applied in the form of a dry powder at thicknesses of 400-600 microns onto the heated surface of the steel pipe. Once applied and cured, the epoxy film exhibits an extremely hard surface with excellent adhesion to the steel surface. The FBE protective surface is homogeneous and offers an excellent resistance to chemical reaction.
The FBE coating systems provide protection at moderate temperatures (-40oC to 85oC) and come in two options:
FBE Dual: recommended for sub-sea pipelines and flowlines operating in the toughest environments. It offers excellent impact resistance and abrasion properties which, combined with its good flexibility, provide suitable protection against coating damage during pipe transportation and construction.
FBE Non-slip: this coating system provides a rough, non-slip surface for a pipeline that will subsequently be concrete-coated.
Three-Layer Coating Systems: Polyethylene and Polypropylene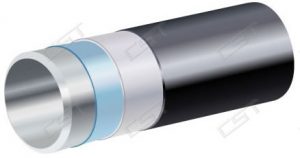 The three-layer pipe external anti-corrosion system consists of a layer of high-performance Fusion Bonded Epoxy onto which a co-polymer adhesive layer is extruded, followed by a layer of extruded polyethylene or polypropylene until the desired thickness is obtained.
This coating system provide pipeline protection at the following operating temperatures:
Three-layer polyethylene: suitable for temperatures between 40℃ and 85℃
Three-layer polypropylene: suitable for temperatures between -40℃ and 110℃
Internal cement mortar lining.
It is performed by use of a spinning machine, which rotates the pipe centrifugally causing the cement mortar to equalize and form a smooth, dense protective lining. An automated batching system insures that all cement mortar is mixed to precise project requirements and AWWA C205 specifications.
Thermal insulation
Our thermal insulated piping products used in underground projects,air-conditions pipe work, offshore and onshore projects in order to guarantee flow assurance.
Pre-insulated PU foam pipes can result in significant energy savings,it is installed as a single layer which saves time and reduces labor costs. Polyurethane pipe insulation has excellent thermal conductivity which means it need be only half as thick as its main competitors.
Pipe insulation is achieved by injecting polyurethane between the inner carrier pipe and an outer shell pipe. Alternatively, pipes can simply be sprayed with polyurethane foam which is then covered with an external coating. Finally pipes can also be manually covered with block polyurethane foam.
What is the coating process for the piping products .
Before the coating,we do the blast cleaning process to the pipes or fittings,the preparation is an important factor in coating works ,we should pay more attention to the cleaning process to make sure the highest standard quality.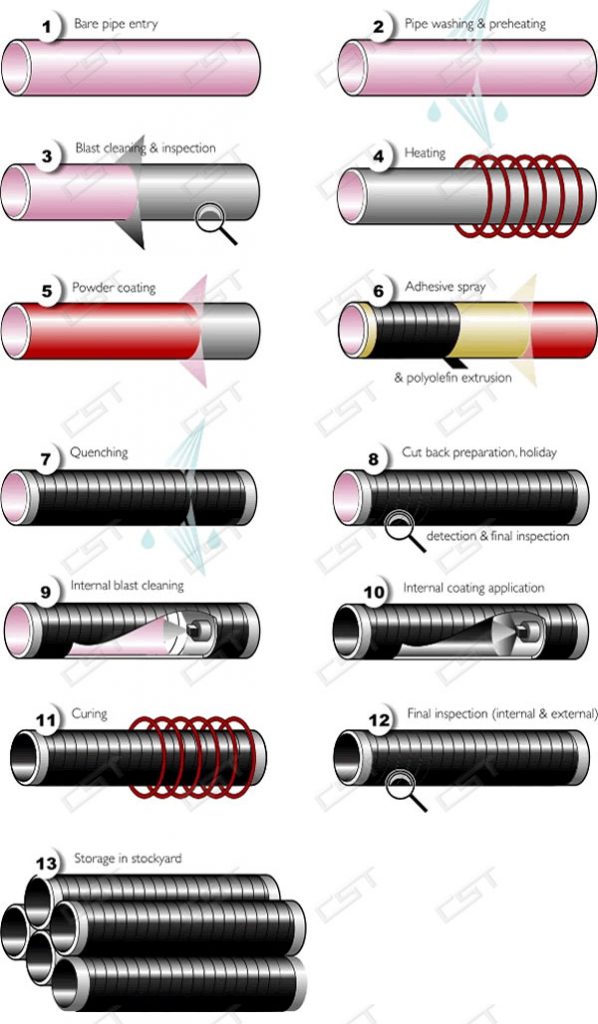 CST  provides pipes with different coating solutions in compliance with the most rigorous international standards for both onshore and offshore oil and gas projects. Our coating and insulation piping products can be used in deep waters and underground . We excellent expertise and experience derived from the steel pipes coating and insulation industry application. We understand the criticality of coated linepipe performance. We can supply the products as per your design conditions.